Root Canal (Endodontics)
Root Canal Procedure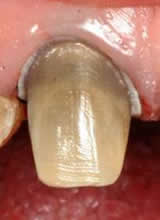 Endodontics refers to the study and treatment of the dental pulp, the innermost part of the tooth. When the dental pulp decays or becomes infected, professional treatment is required to repair the damage. Without this repair, the health of the tooth will continue to deteriorate and may require complete removal. At V Care Dental, we can provide affordable root canal treatment that involves removing the pulp, helping to prevent an abscess from forming and causing further damage.
Causes and Symptoms
A root canal procedure might be necessary in the unfortunate event that your dental pulp has been damaged by physical trauma or gum disease that causes the gum to detach from the tooth. Damage can also be caused by cavities and other forms of decay that affect the tooth enamel, dentine and pulp chamber.
There are several symptoms that may indicate the presence of dental pulp damage, including a pain that ranges in severity from a constant dull ache to pain that radiates while biting. Other symptoms can include swelling in the gum area surrounding the affected dental pulp and a bad taste in your mouth as a result of pus draining from the root tip.
Give Us a Call Today
For more information about our affordable root canal treatment, get in touch with V Care Dental today. Give us a call on (03) 9783 2747 or (03) 9772 7175, or send us a message via our simple online enquiry form.