Crowns
Dental Crowns in Frankston & Patterson Lakes
At V Care Dental, our team of dentists can provide high-quality dental crowns in Melbourne for patients of all ages. Designed to improve the strength and restore the function of your teeth, dental crowns for teeth cap or encircle the existing structure of the natural tooth. They are often applied when large cavities threaten the health of your teeth.
Applications for Dental Crowns
Your teeth can suffer different kinds of damage and decay over your lifetime. Fortunately, individually handcrafted dental crowns for teeth are a suitable treatment method for many of these, including: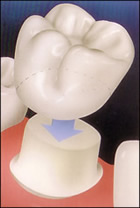 Teeth that have suffered decay
Teeth that have become fractured or cracked
Teeth that are out of shape or misaligned
Teeth that need strengthening after a root canal treatment
Please remember that dental procedures carry risks. Speak to a qualified health practitioner and receive a second opinion before proceeding with major dental treatment.
Learn More Today
V Care Dental Care is the number one choice when you need dental crowns in Frankston or Patterson Lakes. Give us a call or enquire online to learn more or book an appointment at one of our clinics.
"Any surgical or invasive procedure carries risks. Before proceeding, you should seek a second opinion from an appropriately qualified health practitioner."