Dental Implants
Dental Implants in Frankston & Patterson Lakes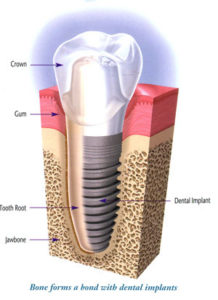 At V Care Dental, we can provide professional tooth removal and replacement services for patients across Melbourne. Our highly trained and experienced team can deliver tailored treatments that meet your specific needs and requirements, including dental implants in Frankston and Patterson Lakes.
What are Dental Implants?
A dental implant is an innovative treatment that's used to replace a missing tooth. The procedure involves placing an artificial titanium rod into the jaw bone. This implant is a non-intrusive solution that replaces the root portion of the natural tooth. It also allows new bone cells to grow, which seamlessly merge with the implant and help to lock it into place.
Our dental implants are an effective method of tooth replacement in Melbourne. They can be used to replace one tooth or several teeth where necessary. Depending on the extent of the damage to your natural teeth, several implants and crowns might be necessary for the best results.

Book an Appointment Today
If you need affordable dental implants in Melbourne, look no further than the team at V Care Dental. Contact us today to learn more about our tooth removal and replacement services or book an appointment.
"Any surgical or invasive procedure carries risks. Before proceeding, you should seek a second opinion from an appropriately qualified health practitioner."