Bridges
Dental Bridges in Melbourne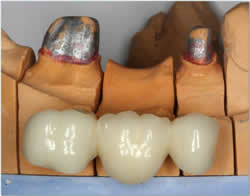 In the unfortunate event that one or more of your teeth are missing due to physical trauma or decay, a dental bridge procedure is an excellent option for replacing them. Bridges are permanent attachments that are used to close gaps between missing teeth, helping to strengthen the surrounding teeth and prevent drifting.
At V Care Dental, we understand the importance of healthy and aesthetically pleasing teeth. For this reason, we offer high-quality dental bridges in Melbourne as well as other treatments for patients of all ages. We boast a team of highly trained and experienced dentists who can deliver solutions that are tailored to your needs.
A Healthy and Natural Look
If you wish to avoid having dental implants or dentures, a dental bridge procedure is the next best option for replacing one or more of your missing teeth. Depending on your requirements, the dentists at V Care Dental can offer a variety of designs and materials for your bridges. Our dental technicians handcraft each individual bridge to ensure that it accommodates your needs as well as providing a healthy and natural look.
Contact us today to learn more about our dental bridges in Melbourne or make an appointment.
Any surgical or invasive procedure carries risks. Before proceeding, you should seek a second opinion from an appropriately qualified health practitioner.