Dental Crowns and Bridges
If you have damaged or malformed teeth, dental crowns and bridges are excellent restorative treatment options. At V Care Dental, our highly trained and experienced dentists can carry out procedures that repair and transform your teeth. We guarantee that you'll be able to smile with confidence again after a handful of appointments with one of our dental professionals.
Our dental clinic is fully equipped to handle dental crowns and bridges. We draw from years of experience and use state-of-the-art equipment to get the job done. Whether your teeth are discoloured and malformed or they've become damaged by cracks, our restorative treatments can get your teeth looking as good as new.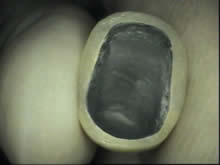 What is a Dental Crown?
A dental crown is a tooth shaped cover that fits over the existing structure of your damaged tooth. This not only strengthens and protects the tooth, but also restores its natural function and appearance. A dental crown procedure is most commonly recommended for the following reasons and circumstances:
Strengthen teeth which have been weakened by decay or a large filling
Protect fractured, cracked and worn teeth
Improve the shape, alignment and shade of a tooth
Strengthen the tooth after a root canal treatment
Each crown is individually handcrafted by our dental technician to create a healthy, natural look. Whether you need porcelain crowns for front teeth or back teeth, you can rely on us to form and shape the crown so that it accommodates the affected area. Once applied, dental crowns can last between five to fifteen years before a dental crown replacement is needed.
What is a Dental Bridge?
A dental bridge is an artificial tooth designed to replace one or more missing teeth. These are anchored to the natural teeth on either side of the gap, restoring the full function and appearance of your teeth. Bridges have the added benefit of stopping your teeth from shifting and becoming misaligned. In addition, they mitigate your risk of tooth decay and gum disease.
Get in Touch With Us Today
Would you like to know more about our dental crown treatment? Give us a call on (03) 9772 7175 or message us online and we'll get back to you as soon as possible with informative answers to all of your questions.
"Any surgical or invasive procedure carries risks. Before proceeding, you should seek a second opinion from an appropriately qualified health practitioner."